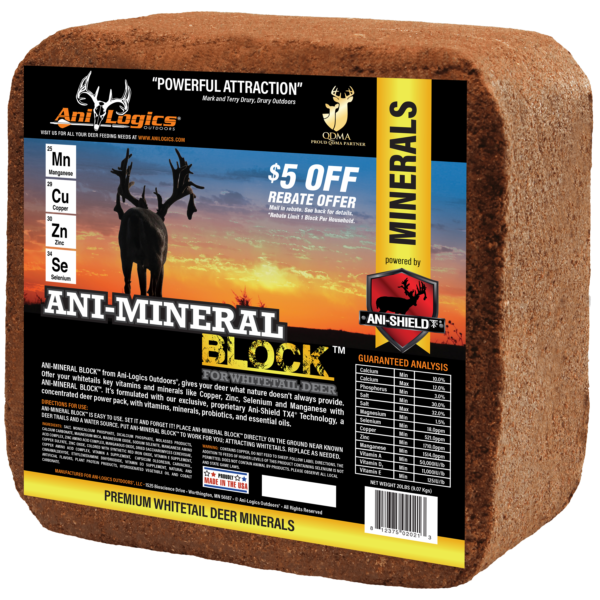 12 Review(s)
Ani-Mineral Block™ – Deer Mineral – 20lb
SKU: 40005

Ani-Logics™ Ani-Mineral Block™ gives your deer what nature doesn't always provide. It offers key vitamins and chelated minerals like Copper, Zinc, Selenium and Manganese with Ani-Mineral Block™. Formulated with our exclusive, proprietary Ani-Shield TX4® Technology. Ani-Mineral Block™ is designed to support the immune system and antler growth. Easy to use, just set it and forget it.
Ani-Mineral Block™ Features:
Ani-Shield TX4® Technology designed to support immunity and health in whitetail deer
Proprietary whitetail deer attractant
Formulated with vitamins and chelated minerals
20 lbs.
$5 Off Mail-In Rebate found on back of specially marked labels or to download rebate form, click here.
Customer Reviews
Been using the bragging rights and it's great but not much activity on the blocks
Reviewed by: James Owens; on 26/08/2018
The Does, the Fawns, the Bucks of all sizes and shapes are here enjoying every lick! It's just what the doctor ordered! Thank you all for making the process of giving back to these gorgeous creatures that roam freely in search of what they crave!
Reviewed by: Cathy DeBates; on 20/08/2018
Deer found it over night. Had several nice bucks using it daily. Great mineral.
Reviewed by: Brian; on 30/06/2018
The block unbelievable how strong the smell is. I got evertything on the property coming to it. I had raccoon flipping it over trying to find the smell. My deer could smell it everytime they passed but was kinda scared of object. recently had a buck break the waters an lick it!
Reviewed by: Cody Tackett; on 21/05/2018
Hi Cameron, We are sorry to hear this. We would love to get you in touch with our Wildlife Biologist Tim Neuman to discuss strategies and best practice! If you are interested in chatting with him please let us know and we will get you his contact information! Thank you!
Reviewed by: Lauren LeBrun; on 14/05/2018
Put out 2 blocks in 2 different places. Camera on each. In over a week, not a single deer. But the black bear seem to like it...which is not what I want at all.
Reviewed by: Cameron; on 14/05/2018
As of right now the deer have been hitting the block hard after the rough winter...very I'm impressed with the block and the various minerals in it that are all key to the health of my deer. The only reason I haven't given it 5 stars yet is because the antlers haven't started to grow yet🦌👍🏻 Soon to be 5 stars...keep up the good work!
Reviewed by: Anton Blejec; on 25/04/2018
Here in north Florida where I'm at, we don't have a lot of farm land, there's not a lot of high protein feed, and there is an abundance of deer, so there's not a lot of amazing bucks. The Ani-Mineral Block has helped a great deal with my deer herd; rack size has improved throughout the herd, and the deer look healthier overall. I'm seeing bigger racks at an earlier age, mass is improving on older bucks, and coats are shinier. Going on my third year using this product and it's worth every penny I've invested in it, in my book.
Reviewed by: Rocky Thomas; on 29/03/2018
Outstanding products and customer service! Best mineral and supplement I've used hands down
Reviewed by: Trent Huston; on 13/06/2017
Deer love these Blocks
Reviewed by: Michael Wincek; on 04/05/2017
I've tried this for a couple weeks now they love it! Amazing science behind these awesome products ?
Reviewed by: Trent Huston; on 02/05/2017
Put out my ani-mineral block out two weeks ago and have had non stop action on my game camera
Reviewed by: Kenneth Lewis; on 12/04/2017
this block is awesome! deer love it. put a camera on it and you wont believe the pictures you will get not to mention its good for the deer.
Reviewed by: Jeff Light; on 01/09/2016
Related Items