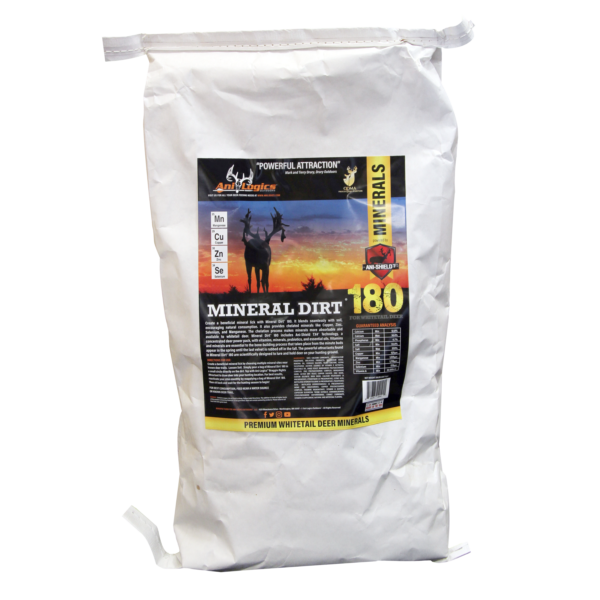 1 Review(s)
Mineral Dirt 180™ – Deer Mineral – 20lb
SKU: 30710
Looking to take your whitetails to the next level? Providing key minerals can help deer reach their maximum genetic potential. Mineral Dirt® 180 isn't just another mineral product, it's a scientifically-formulated mix that contains chelated minerals; the chelation process can increase mineral absorption rates by as much as 70%! Ani-Logics™ studied free-range deer around the country and found 4 key micro minerals that help facilitate maximum antler growth that were lacking in the diets of whitetails, and included them in Mineral Dirt® 180! Mineral Dirt® 180 contains Ani-Shield TX4® Technology that provides nutrients your deer may be missing, like vitamins, probiotics, essential oils, and important bone building minerals such as: Copper, Zinc, Selenium, and Manganese.
Long-range attraction and unbelievable palatability make Mineral Dirt® 180 even more appealing.

Mineral Dirt® 180 Features:
Whitetail deer mineral mix that blends naturally with dirt
Ani-Shield TX4® Technology designed to support immunity and health in whitetail deer
Proprietary whitetail deer attractant
Formulated with vitamins and chelated minerals
20 lbs.
Customer Reviews
I am a firm believer in the supplemental feeding, especially where I live in West Virginia I don't have much room for food plots so that's where Ani Logics comes in.The deer on our farm can't resist the aroma and I love that it's healthy and beneficial for the herd. I am absolutely SOLD on Ani Logics!!
Reviewed by: Mitchell Patterson; on 01/09/2017
Related Items