Brian Wiese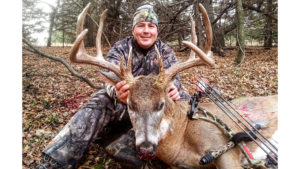 Hunting Partner: Cody Sirek
Hometown: Elk Point, SD
Spouse: Amanda Wiese
Children: Levi, Austin
Education: BS Business Wayne State College, Wayne, NE
Occupation: General Manager Legacy Post & Beam
Interests: Family, Outdoors, land management, filming, Nebraska Football
Animal Specialties: Turkey & Deer
Show More...

I grew up in Creighton, NE, a small town in the Northeast corner of the state.  When I was around 8 or 9 years old, my stepfather introduced my twin brother and I to hunting.  We would tag along with him during the Nebraska rifle season, and when the turkey population started to increase in the area, he bought us turkey calls and told us to "try to make sounds like the turkeys do".  He wasn't a turkey hunter himself, but he had a hunch it was something we would enjoy, so he encouraged us to give it a try. He was right and we were hooked.

I purchased my first video camera when I was 17 and instantly fell in love with the filming aspect of hunting. In 2006, an out-of-state friend of mine approached me about helping manage some of the hunting ground he leased in our area. That friendship eventually led to us starting a hunting outfitting business together called Millstone Plantation. Over the next 6 years, we guided turkey and deer hunters on approximately 30,000 acres. It was an incredible learning experience and blessing to get to spend so much time in the woods and to meet hunters from around the nation.

The EHD epidemic of 2012 led us to cancel all of our deer hunts, and slow down the guiding business. The timing of this was fitting as it allowed me to focus on my growing family, growing business, and also on filming.  Shortly after, my sister introduced me to Cody Sirek, who was just as passionate about outdoor filming as I was; in small town Nebraska, this passion is a rarity. We have been hunting partners ever since. In 2016, we had the opportunity to meet Marc Freese and were honored when given the opportunity to become pro-staff for Ani-Logics Outdoors®. We now get the privilege of sharing our passion with a wider hunting community. As a father of 2 young boys, I look forward to being able to incorporate my sons and family into it as they grow.

Show Less...
Ryan Kemper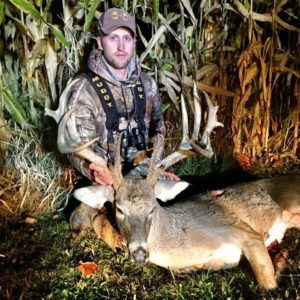 I live in Little Hocking, Ohio, which is in the Southeastern part of the state. I work at the Energizer plant in Marietta, Ohio. I'm married, have a son (9 months old) and daughter (4 years old). As I've grown older I've really become interested in land/wildlife management. Creating better environments and making sure the deer have all the proper nutrients they need to stay healthy and grow to their full potential, it has became an obsession to me and also helping other people understand that it's important as well. Just like anyone else I LIVE for bow hunting whitetails. There is nothing better in my book.

Show More...

I've been very fortunate in the past years to harvest/manage some very good deer. In October of 2016, I harvested a buck that grossed 201 5/8". I watched and managed that deer for a few years and it was like a dream come true to be able to actually put my hands on him. All the long days of planting food plots, running cameras, providing the proper protein/minerals, and scouting was all worth it in the end. Seeing the results from doing all the proper homework, not just from myself, but other hunters as well; is very rewarding to me. I believe Ani-Logics Outdoors products are my next step in producing higher quality deer. I'm honored to have the opportunity to be a part of the Pro-Staff team for Ani-Logics Outdoors and I'm excited for what's to come in my future!

Show Less...
Cory Arnold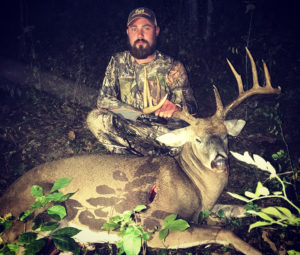 I grew up on a beef farm in Southeast Ohio, which is where I still live, work, and hunt today. I started out rabbit and squirrel hunting with my grandpa when I was 8 years old, which really got me interested in the outdoors. When I was 10, I was finally able to go on my first deer hunt, with my uncle as my guide; I harvested my first whitetail. From that moment on I was hooked! After a couple Ohio gun seasons I needed a reason, and a way, to be in the woods as often as possible, and that's when I found bow hunting. Through bow hunting whitetails I have been able to study the outdoors and mature as a hunter, as well as find something that I am truly passionate about.  

Show More...

As I get older, the reasons I hunt have changed from wanting to go out and harvest a deer, to becoming obsessed about only harvesting a particular deer, the right deer, and always the most mature deer. I have learned that in order to make that goal and obsession into a reality you have to be a "365 Hunter". Which to me, it comes down to herd management; by harvesting only the most mature deer in a herd, keeping a desirable buck to doe ratio, and providing them with the habitat and nutrition they need to thrive and grow to their full potential. Through my management practices I have been able to harvest several mature deer ranging from 130″ to 163″ gross scores. While I'm always hoping to produce and harvest a "Booner", it's more important to me to harvest a mature buck than a young one with a big rack.

I now run 25-30 trail cameras year round on several parcels totaling around 800 acres. I start with mineral sites in late winter through early fall, and keep the feeders full of supplement year round. I own and operate a food plot business on the side, and plant annual food plots for multiple clients and myself. The most rewarding part of managing deer has been getting my family involved, I have three younger cousins that are extremely eager to learn and get out and hunt as much as possible and it is always a blast taking them. I have recently begun filming our hunts, so that we will have them to share for years to come.

I am very fortunate to have found a company like Ani-Logics Outdoors, who has the same values and goals as I do, when it comes to managing whitetails year round. As a pro-staff member, I am able to put their products to work in my management program, and provide them with the feedback needed to continue to produce the best products on the market.

Show Less...
Cody Sirek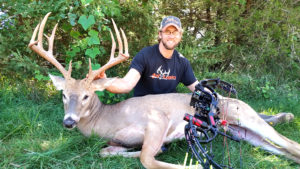 Hunting Partner: Brian Wiese
Hometown: Brunswick, NE
Spouse: Single
Children: None
Education: Automotive Technology Degree at Northeast Community College Norfolk, NE
Occupation: Shop Foreman Automotive/Diesel Technician at Nebraska Department of Transportation


Show More...

Interest: Spending time with my nephew and family, bow hunting, fishing, weightlifting, baseball (Go Twins!), bowling, planting food plots, running trail cams, wildlife photography, hiking, shed hunting and listening to Red Dirt country and Rock music.

Animal Specialties: Whitetail Deer & Turkey

I was raised in the small town of Brunswick, Nebraska (population less than 150 people) in Northeast Nebraska where my love for the outdoors flourished, thanks to my Dad for introducing me to bow hunting and my Grandpa who always had time to take me fishing. From running catfish set lines to making tree stands, scouting, and learning how to set up a bow. I knew I had to always have the great outdoors in my life.  I have learned a lot and have great memories over my years of hunting with my Dad. As I grew older I ventured out on my own a little more and started to do a lot more self-hunting.

My passion grew even more when I got the opportunity to actually start managing 80 acres of land for deer and other wildlife. I started off doing small things such as, providing quality mineral for the deer, small food plots, making deer trails through the cedar tree belts, and improving bedding so the deer would not have to leave the property as often. I was fortunate to harvest a 168" mature buck with my bow on those 80 acres, which made me extremely happy and fueled the fire to do more on the properties that I am fortunate to hunt and manage.

The 2009 season was very special in many ways to me as I harvested my biggest 168" gross, whitetail buck, with a bow and got to share one last hunt with a close dear friend of mine as he was called to hunt in heaven. Before the 2010 season I became interested in self-filming my hunts so I convinced my Mom and Dad to let me use their camera!  I assured them that I wouldn't drop it out of the tree, which I did unfortunately… I was hooked on filming from there on out and my passion to film grew and continues to grow each year. As it turns out, the 2010 season was good to me as well, I was able to harvest ''Snaps'' not the biggest buck but one that will always mean the most to me for many of reasons.  It was my first self-filmed kill on video. Because of that experience, I never hit the woods without a camera in hand.  I have had many good opportunities to harvest some very nice bucks over the years but could never get it captured all on film while solo filming.

In 2013, I decided that if I wanted to continue to filming I needed to get good high quality equipment, so I took out a loan to purchase a Canon XA20 and all the necessities to get started. Most people thought I was crazy to do that, but they just don't understand the rush you get from it! In 2014, I was fortunate to meet Brian Wiese and help him try to capture his quest of ''Westerkamp" on film all while creating a friendship that goes beyond just hunting. It is refreshing to have a hunting partner that has the same goals and attitude about the great outdoors as I do.

I'm excited for what's to come in the future and ready to be back out sitting in a tree waiting for a big mature Nebraska buck!

Show Less...
Paul Annear
There Is No Off Season," isn't just a catch phrase, it is truly who I am and what I do as a deer hunter and manager. From running trail cameras on my Wisconsin properties to planning year-round habitat projects, managing in the mindset that "There Is No Off Season" is part of the process for me, and Ani-Logics™ is a critical part of the plan!
I was born and raised in the hunting and fishing rich area of southwestern Wisconsin. My father taught me from a very young age how to hunt and fish. From squirrel hunting the massive ridges of our property to trout fishing the many streams across the Driftless region, outdoor hobbies became a lifestyle.

Show More...

I now return to that same family property to hunt, manage and harvest whitetails.

During my college years, I grew a passion for bow hunting to escape the business of school, and the fire still drives me to new challenges and ways to find success. Currently, I live in northeast Wisconsin and manage property in Brown county where I get to chase whitetail in an area that differs greatly from my home property in hilly southwest Wisconsin.

Show Less...
Austin Ashley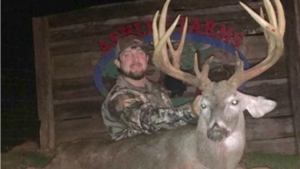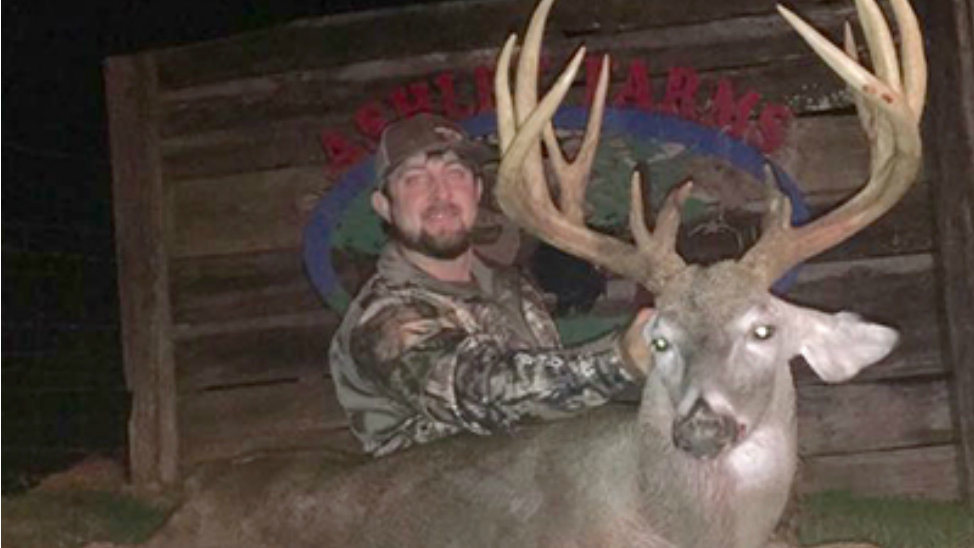 I was raised in a family of hunting enthusiasts, going to the woods in pursuit of various game with my father since I was a very young child. Over the years, we harvested our share of mediocre deer, but nothing notable. Seeing the huge trophy bucks being taken from other parts of the country, I wondered why we didn't have deer of that caliber in southern Mississippi. No one thought we could grow deer of that size here. As I grew older and more passionate about hunting and wildlife, I also grew more interested in the well-being of the deer, their health, and their environment. I set a goal to grow and harvest a Boone &

Show More...

Crockett deer from our farm. That was the beginning of deer management at Ashley Farms.

As a 16-year-old high school senior bound for college, I spotted a particular young 7-point buck, about 2-1/2 years old, on our farm. I decided to see how big this buck could grow. I built feed boxes, put up some game cameras, and began to supplement his diet. I experimented with various supplements, and began implementing protein feeds and year-round food plots. When I couldn't find the right mineral supplement, I even made my own. I had many encounters with this deer over the next 5 years and watched him grow into a true trophy buck. He was harvested by a neighbor and made the Magnolia record books! Over those 5 years, I grew from a weekend hunter into something much more.

At 31 years old, I have been a land manager and game keeper for 15 years on our southern Mississippi farm. I have fought for diversity, because no one seems to think you can grow big deer in Mississippi. I am here to tell you that you can grow not only big deer, but record-worthy bucks! I've proven that intensive management, the right products to give the deer the nutrition they are lacking, and allowing the deer to mature are the key aspects of maintaining a healthy farm and a healthy herd, in spite of less than perfect dirt. As proof that hard work, perseverance, and proper management go a long way, we've harvested multiple whitetails over 170! If I can grow big deer here in southern Mississippi, you can grow big deer wherever you are.

Show Less...
Ray Reed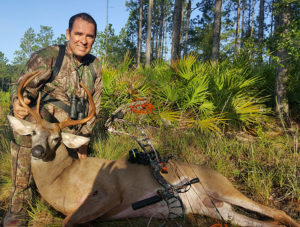 I was born in Newark, New Jersey where I grew up hunting and fishing at a young age of 8. We made yearly trips hunting the mountains in New Castle, Virginia on family property and state gamelands. At age 10, my parents relocated to Florida, which introduced me to a whole new learning curve to hunting the south. I'm an avid archer who enjoys hunting and fishing with my bow as well as target archery. I share my joy for archery and the outdoors with my wife and children who love it as well!!

Show More...

I've been using Ani-Logics products now close to 3 years! I love the results! I'm a huge science geek and wanted to supplement a product that was biologically balanced that would give me the results other than trying to supplement with processed protein pellets. Especially, hunting mainly here in Florida. I wanted something to help boost antler growth! I started with Mineral Dirt 180 and was amazed at how much deer were visiting the site. I then added Supplement GOLD on a yearly basis.

What's amazing is how the deer have responded in antler growth as well as healthy fawns hitting the ground!

Show Less...