Brian Wiese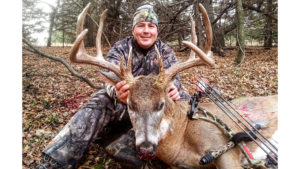 Hunting Partner: Cody Sirek
Hometown: Elk Point, SD
Spouse: Amanda Wiese
Children: Levi, Austin
Education: BS Business Wayne State College, Wayne, NE
Occupation: General Manager Legacy Post & Beam
Interests: Family, Outdoors, land management, filming, Nebraska Football
Animal Specialties: Turkey & Deer
Show More...

I grew up in Creighton, NE, a small town in the Northeast corner of the state.  When I was around 8 or 9 years old, my stepfather introduced my twin brother and I to hunting.  We would tag along with him during the Nebraska rifle season, and when the turkey population started to increase in the area, he bought us turkey calls and told us to "try to make sounds like the turkeys do".  He wasn't a turkey hunter himself, but he had a hunch it was something we would enjoy, so he encouraged us to give it a try. He was right and we were hooked.

I purchased my first video camera when I was 17 and instantly fell in love with the filming aspect of hunting. In 2006, an out-of-state friend of mine approached me about helping manage some of the hunting ground he leased in our area. That friendship eventually led to us starting a hunting outfitting business together called Millstone Plantation. Over the next 6 years, we guided turkey and deer hunters on approximately 30,000 acres. It was an incredible learning experience and blessing to get to spend so much time in the woods and to meet hunters from around the nation.

The EHD epidemic of 2012 led us to cancel all of our deer hunts, and slow down the guiding business. The timing of this was fitting as it allowed me to focus on my growing family, growing business, and also on filming.  Shortly after, my sister introduced me to Cody Sirek, who was just as passionate about outdoor filming as I was; in small town Nebraska, this passion is a rarity. We have been hunting partners ever since. In 2016, we had the opportunity to meet Marc Freese and were honored when given the opportunity to become pro-staff for Ani-Logics Outdoors®. We now get the privilege of sharing our passion with a wider hunting community. As a father of 2 young boys, I look forward to being able to incorporate my sons and family into it as they grow.

Show Less...
Ryan Kemper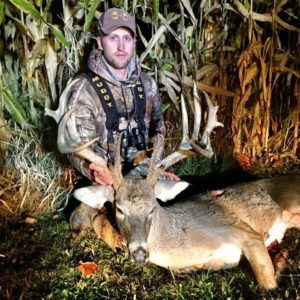 I live in Little Hocking, Ohio, which is in the Southeastern part of the state. I work at the Energizer plant in Marietta, Ohio. I'm married, have a son (9 months old) and daughter (4 years old). As I've grown older I've really become interested in land/wildlife management. Creating better environments and making sure the deer have all the proper nutrients they need to stay healthy and grow to their full potential, it has became an obsession to me and also helping other people understand that it's important as well. Just like anyone else I LIVE for bow hunting whitetails. There is nothing better in my book.

Show More...

I've been very fortunate in the past years to harvest/manage some very good deer. In October of 2016, I harvested a buck that grossed 201 5/8". I watched and managed that deer for a few years and it was like a dream come true to be able to actually put my hands on him. All the long days of planting food plots, running cameras, providing the proper protein/minerals, and scouting was all worth it in the end. Seeing the results from doing all the proper homework, not just from myself, but other hunters as well; is very rewarding to me. I believe Ani-Logics Outdoors products are my next step in producing higher quality deer. I'm honored to have the opportunity to be a part of the Pro-Staff team for Ani-Logics Outdoors and I'm excited for what's to come in my future!

Show Less...
Cory Arnold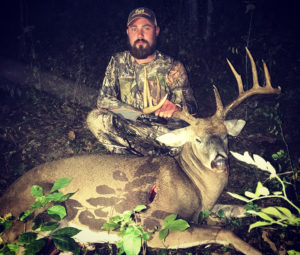 I grew up on a beef farm in Southeast Ohio, which is where I still live, work, and hunt today. I started out rabbit and squirrel hunting with my grandpa when I was 8 years old, which really got me interested in the outdoors. When I was 10, I was finally able to go on my first deer hunt, with my uncle as my guide; I harvested my first whitetail. From that moment on I was hooked! After a couple Ohio gun seasons I needed a reason, and a way, to be in the woods as often as possible, and that's when I found bow hunting. Through bow hunting whitetails I have been able to study the outdoors and mature as a hunter, as well as find something that I am truly passionate about.  

Show More...

As I get older, the reasons I hunt have changed from wanting to go out and harvest a deer, to becoming obsessed about only harvesting a particular deer, the right deer, and always the most mature deer. I have learned that in order to make that goal and obsession into a reality you have to be a "365 Hunter". Which to me, it comes down to herd management; by harvesting only the most mature deer in a herd, keeping a desirable buck to doe ratio, and providing them with the habitat and nutrition they need to thrive and grow to their full potential. Through my management practices I have been able to harvest several mature deer ranging from 130″ to 163″ gross scores. While I'm always hoping to produce and harvest a "Booner", it's more important to me to harvest a mature buck than a young one with a big rack.

I now run 25-30 trail cameras year round on several parcels totaling around 800 acres. I start with mineral sites in late winter through early fall, and keep the feeders full of supplement year round. I own and operate a food plot business on the side, and plant annual food plots for multiple clients and myself. The most rewarding part of managing deer has been getting my family involved, I have three younger cousins that are extremely eager to learn and get out and hunt as much as possible and it is always a blast taking them. I have recently begun filming our hunts, so that we will have them to share for years to come.

I am very fortunate to have found a company like Ani-Logics Outdoors, who has the same values and goals as I do, when it comes to managing whitetails year round. As a pro-staff member, I am able to put their products to work in my management program, and provide them with the feedback needed to continue to produce the best products on the market.

Show Less...
Cooper Hough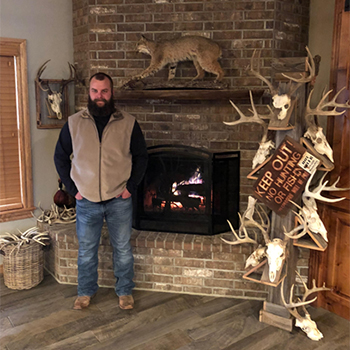 I was born and raised in NE Oklahoma. I currently hunt several properties consisting of 20 to 1000 acres and I'm very dedicated to land and deer management.
My dad started taking me hunting when I was 5. I learned early in life that it wasn't all about the harvest of the animal, but the experience with family that means the most.
When I was 9, I shot my first deer with my great grandfather's Winchester .30-30 and from there my passion turned into a obsession. I remember helping my family before every season. Some of my favorite times were setting tree stands and scouting for those giant bucks.

Show More...

As time went on, I saw deer hunting strategies and techniques continue to evolve with more usage of mineral and supplement feeding. I messed around with a few products, but didn't fully understand their purpose until the 2012 EHD hit. After walking up on several dead hit list bucks, I knew I needed to start protecting my deer herd better.

I did a lot of research on the best products available and everything led me to Ani-Logics. I've been running their products for several years now and have noticed the deer are looking healthier and better equipped for winter more each year. There are a lot more deer holding on my properties and antler growth has met my expectations.

I'm proud to say I'm an Ani-Logic's outdoorsman!

Show Less...
Josh Stein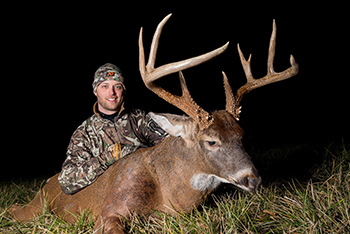 I've been a hunter my entire life, beginning with growing up on a dairy farm in lower Michigan. When I moved to the Keweenaw Peninsula of Michigan in 2001, I experienced a big learning curve in trying to track down those elusive Upper Peninsula mature bucks. My forestry and real estate career have allowed me to spend extensive time exploring and scouting the big woods over the last 17+ years.

Show More...

I have been filming my journey towards consistently tracking down big deer for over a decade now, and I enjoy sharing those adventures with viewers all over the world.

I run a popular real estate/hunting website, www.joshsteinland.com, that features a live webcam tucked deep in the north country. The webcam has a large viewership, where visitors enjoy watching deer, bear, turkey and more feeding on Ani-Logics products!

Show Less...
Dan Rensel
Hometown:  Erie, Pennsylvania
Education:  BA in Resource Management /Environmental Education
Occupation:  Manager Field and Stream Shop
Interests: Wildlife Management, Archery Hunting, Shooting sports, Fishing, playing guitar and songwriting and Pittsburgh Penguins hockey.
Favorite type of hunting:  Archery hunting for Whitetails
I didn't necessarily grow up in the typical hunting family in Northwestern PA.  My dad hunted as kid and young adult, but had more of a passion for music.  I hung out with the kids that hunted and fished when I was young and went on my first deer hunt at the age of 13 in the Allegeny National Forest of Pennsylvania.

Show More...

I remember that first morning of rifle season like it was yesterday.  Stump-sitting on my blaze orange heat-a-seat in my once-piece blaze orange coveralls looking over a vast gully in the pitch black! As the world awoke for another day, that's when I saw it in the gray light!  My first sighting of a deer in the woods!!  Although it was only a doe, I knew instantly that I was hooked!!  She slowly browsed by me and made her way into a thicket on top of the ridge. Although I didn't see a buck that first day, I couldn't wait to get out and hunt again!

Since that first hunt many years ago, I have transformed into what many people call a 365 hunter.  There isn't a day when I don't think of  managing property for wildlife, where my next stand should be, what to plant, where to plant, what to feed, where to put my next game cam.  I have developed such a passion for hunting that I also have made it my career.  I am currently part of the management team at my local Field and Stream Shop located in Erie, Pennsylvania. You can catch me many times being out on the sales floor getting carried away talking about attractants, hunting products, treestand strategies, food plots, game cameras, etc.

Being asked to be part of the Prostaff team at Ani-logics Outdoors is a great honor! Their philosophy and mission is the definition of who I am as a land steward, game manager, and hunter!  I truly believe that providing wildlife and game with added nutrition and supplementation can only benefit them and assist you as a hunter and/or manager to help you achieve your personal goals on your hunting grounds!

Show Less...
Clint Parker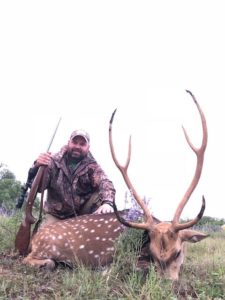 I am 39 years old, grew up and live in East Texas. I live and breath hunting and the outdoors. I love to hunt all game with both bow and rifle. I have a 10 month old son who I cant wait to get into the woods with me. I have always had a management mindset when it comes to hunting, and Ani-Logics lines up with that mindset as managing and growing wildlife isn't a hunting season only process it takes 365 days a year to truly reach those goals.

Show More...

 I am excited about using all the products and being able to provide real world testimonials to support this company. I hunt both East Texas and West Texas and have a patient and loving wife who supports me in doing what I love. 

Show Less...
BJ Pfalzgraff

Dothan, Alabama
Spouse: Rachael Pfalzgraff
Children: Tripp Pfalzgraff age 4 and Ellie Kate Pfalzgraff age 1 month old
Occupation:  business manager Hyundai of Dothan
I grew up in the Dothan , Al or as us locals call it "Circle City". Around the age of 8 years old, my dad introduced me to the outdoors. I can still relive the first deer I killed as if it was yesterday. Ever since that day I have been extremely obsessed with the outdoors. Whether it be chasing big bucks in the fall or waiting for that first gobble of the spring. There is nothing like it. I absolutely love introducing someone to the outdoors and hunting.

Show More...

  I have introduced my son to the outdoors at a very early age with hopes that in the future he will take to it as I have.I have hunted in many other northern states, however there is just nothing like bow huntingbig whitetail bucks in the south. There's not a day that goes by that my properties and deer herd doesn't cross my mind. My wheels are always burning. Where should my next set up be, do I need to have a few more cams running on this property, should this buck get a pass for one more year? But, as I've grown older I have slowed down just a bit thanks to a good friend and mentor of mine, Ron Nelsen, who has helped me to realize that we have to slow down and fully enjoy the process and success will follow and I fully believe in that.

I am very proud to be part of the Ani-Logics Pro-Staff Team the product is second to none with years of research to prove it. Hunt hard, hunt smart and hunt safe!

Show Less...
Jordan Yira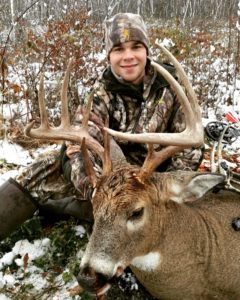 Hunting Partners: Mark Yira (Dad) and Brandon Yira (Brother)
Hometown: St. Croix Falls, WI
Spouse: Greta Yira
Education: BS in Community Psychology and Mental Health Psychology from St. Cloud State MN, Masters in Occupational Therapy (In Progress) St. Kate's
Occupation: Independent Living Skills Specialist for Courage Kenny Rehab Institute (Allina Health)
Interests: Family, Hunting, Fishing, Trapping, Training my dog Maggie, Watching the Packers and Badgers
Animal Specialties: Deer, Turkey, Waterfowl, Upland birds, Trapping                                                        Hunting States: Wisconsin, Minnesota, Iowa

Show More...

 

I grew up in Hutchinson MN, a small farming community west of the twin cities. I got my first exposure of hunting when I was 4 years old.  Thanks to my dad for taking a 4-year-old on opening day of Wisconsin gun opener I got to experience deer hunting for the first time. I still remember to this day him bundling me up with orange and us walking to his tripod over looking a food plot on the edge of the woods. I remember him telling me to be still and quiet as I sat at his feet on the tripod. It wasn't 15 minutes later that I was shaking his leg as a nice buck was chasing a doe in the food plot. My dad shot him twice and the brass hit me right in the head and the buck crashed in the swamp. Both my dad and myself were shaking so bad from "Buck Fever". From that moment I was hooked on hunting whitetails.

While going to college at St. Cloud State where I ran track and field and was in the Army Reserves, I spent all my free time, which wasn't much, on the new property my dad bought in Polk County, Wisconsin, right next to where my mother grew up. The piece of property was just logged before we bought it. Looking like a wasteland, my dad and I began scouting and putting up stands. With the help of Ani-Logic blocks we were able to pattern some mature buck in our first season. Both my brother and I harvested mature bucks the first day hunting the property. Since then we have harvested 9 mature bucks after only owning the property for 4 years. I owe all my hunting success to my dad for teaching me everything about hunting and the outdoors. Something I hope I can pass onto my kids one day. I have been very blessed to share many wonderful memories in the outdoors with my dad and brother something I will cherish forever.

I am very honored to be apart of Ani- Logic Outdoors Pro Staff team. They are a great company with even better staff. It has always been a dream of mine to get into the hunting industry. I have used their products for many years and have had wonderful success. I love the research behind the products and the results they produce. "There is no off season" describes not only the company but myself as a hunter!

Show Less...
Michael Smothers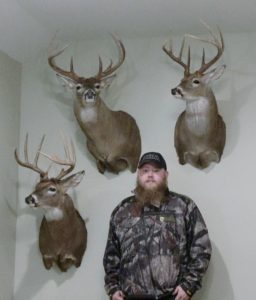 I was born and raised in Marion County, KY, which is located in central KY. I'm currently working in the automotive industry as a forming mill operator. I have hunted all my life, taking my first deer (5 point) at 8 years old and have been hooked ever since. I was taught the ways of hunting by my dad and owe the things I know about hunting to him. I hunt deer, turkey, and predators. Hunting whitetail with my bow is my biggest passion. Most of my hunting was spent on small tracts of land or public land until the last couple of years. I got the opportunity to get a farm to hunt where I can manage the deer herd.

Show More...

That's when I started using the Ani-Logics products. It has really helped the health and quality of deer. The quality of deer I have been able to harvest has improved since I started using Ani-Logics. Now hunting has turned into a 365 day a year passion for me. I'm glad to be a part of such a great company with great products and be able to share my success that I have using it.

Show Less...
Bryan Willis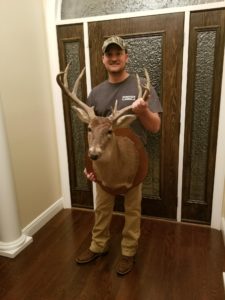 My name is Bryan Willis, I'm 28 years old, and I was born and raised in South Ga. I'm married to my beautiful wife, Karissa and we just recently had our first child Easton, a happy and healthy baby boy. Georgia is always on my mind, especially when it comes to hunting whitetails! Growing up in a big family full of hunters and fishermen, I can't remember a weekend not spent in the woods or on a boat. At a young age my father showed me his passion and love for the outdoors and naturally it rubbed off on me.

Show More...

As I became older, more mature and an avid hunter I began to see the big picture. Not only was harvesting a mature trophy buck my goal, I was also becoming more interested in herd health and managing the property for years to come. Now as a young adult I love the off season almost as much as the hunting season itself. All the prep work, all the maintenance, and especially all the nutrients and minerals provided for our deer make the hunting season that much better! Pro baseball players don't just show up opening day and start hitting homeruns, they put in all the hardwork during the off season and the results speak for itself when its game time. Thats how I hunt whitetails, if you put in all the work during Spring and Summer, you will see the results when its game time. And nobody will work as hard as the guys and gals at Ani-Logics. They do all the leg work so all we have to do as hunters is put out the product and let the good times roll!

Show Less...
Marc Cavanaugh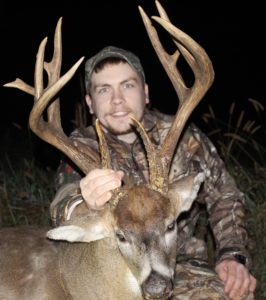 I was born and raised in the outdoors here in central North Carolina. I have been passionately pursuing whitetail deer for over 20 years now since the age of 8 years old. Over the years I have been fortunate to harvest a number of great whitetail deer in my area . In my adult years I have developed a passion for whitetail management and getting the most out of my local herd. Thousands of trail camera pictures a year, meticulously combing over and studying my herd which in turn led to an obsession that runs deep within. I have been filming my own hunts for the past 6 years and enjoy capturing the action for all to see the hard work and fruits of my labor pay off.Naturally, Ani-Logics was the perfect fit for what I wanted out of my herd and offered results year after year in the form of consistently harvesting mature whitetails. I am very fortunate and excited about the opportunity to be a part of such a great company that offers a full scale supplement program I can stand behind and count on day in and day out.
Jay Lewis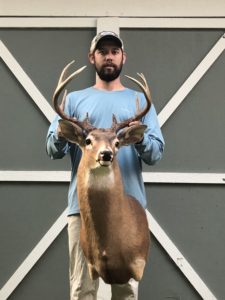 Hahira, GA
Spouse: Kimberly Lewis
Children: Caden, Layton
Education: B.B.A. in Finance from Valdosta State University
Occupation: Owner of Bed'r Mattress
I grew up on the Satilla River in southeast Georgia and gained my passion of the outdoors from my father, James. From an early age he spent an enormous amount of time with me, grooming me into the outdoor enthusiast I am today. Although I did not know it at the time, he was teaching me how to become a husband, father, and provider through lessons in the outdoors.

Show More...

He also made sure we had fun and we killed some beautiful bucks throughout the years. Now I have two sons of my own and a third one on the way. My passion is still to grow and harvest mature bucks, but to also educate my sons on the outdoors, make memories with them they will never forget, teach them the importance of God's creation, and pass on the legacy of a being an outdoorsman that my father instilled in me.

Over the years my knowledge of deer has grown tremendously, and my views have evolved. I previously focused predominately on rack size and was missing part of the bigger picture. Rack size is only a small portion of what is important when managing deer. Age, population, buck to doe ratio, and heard health all play an important role in managing your specific property. I am excited to be partnering with Ani-Logics as they have the products to grow and sustain great deer and a healthy herd. As long you have a plan, put in the work, and be diligent you can turn any property you manage into a whitetail haven. Just remember, there is no off season.

Show Less...
Jens Johnson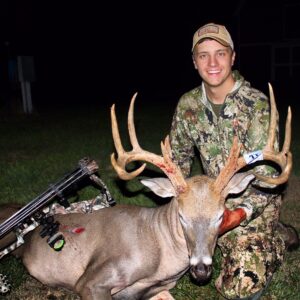 I grew up in a small town in Eastern North Dakota. At a young age I tagged along with family, and family friends, rifle hunting for whitetails. We would do deer drives, which were very action packed and fun. That is where my passion began.
Later, when it was my turn to draw the tags, the deer population took a crash. With a few bad winters and loss of habitat the state couldn't issue as many tags, and the wait to get a rifle tag was too long for me. At that point I took up bow hunting. This is where I became absolutely addicted to the sport of hunting, and especially whitetails.

Show More...

 The connection with the deer year after year is what intrigues me the most. Targeting specific bucks and watching them mature throughout the years is something that I don't get with other types of hunting. This is where my focus on the management side of things started.

During high school I hunted pretty hard, but was mainly only able to hunt on the weekends with school, sports, work, and other activities taking up a majority of the time. I was able to harvest a few bucks, all in North Dakota. After high school, I attended the University of North Dakota and earned a Fisheries and Wildlife Biology degree. During college, I had a little more free time. I invested all of this free time into hunting and fishing. My passion for whitetails really grew.

College classes and work experiences taught me a lot about wildlife and their behavior during the different seasons. I used this knowledge to manage the land. I started running a lot of trail cameras and getting an inventory on many different properties to find mature bucks. I started to plant grasses, trees, and food plots to improve the deer habitat, helping them get through the winter and get more fawns on the ground. I became more involved with the preseason part of hunting and now that's what I really enjoy about the whole process. After college, I started hunting big game out-of-state.

I love all types of hunting, but my connection with the whitetails is something I can't get enough of. This is why I am always on the lookout for new ways to help deer populations and increase the health of the herd, and Ani-Logics is my newest secret.

Show Less...
Jake Shockley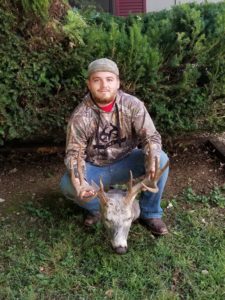 Hunting buddies: Johnny Yewell (Friend) Russel Shockley (Father) Ken Shockley (GrandFather)
My name is Jake Shockley. I love hunting whitetail with my bow or rifle, given the choice, I do prefer my bow! I hunt several properties in Missouri as well as a couple in neighboring states. My home town is St Peter's Missouri.

Show More...

If I'm not prepping for deer season, I'm hunting. If it's not season I'm fishing. I love the outdoors. I'm so excited to see what the future bring using Ani-Logics and being part of an awesome Pro-Staff.

Show Less...
Cody Sirek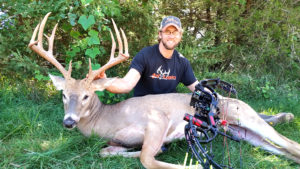 Hunting Partner: Brian Wiese
Hometown: Brunswick, NE
Spouse: Single
Children: None
Education: Automotive Technology Degree at Northeast Community College Norfolk, NE
Occupation: Shop Foreman Automotive/Diesel Technician at Nebraska Department of Transportation


Show More...

Interest: Spending time with my nephew and family, bow hunting, fishing, weightlifting, baseball (Go Twins!), bowling, planting food plots, running trail cams, wildlife photography, hiking, shed hunting and listening to Red Dirt country and Rock music.

Animal Specialties: Whitetail Deer & Turkey

I was raised in the small town of Brunswick, Nebraska (population less than 150 people) in Northeast Nebraska where my love for the outdoors flourished, thanks to my Dad for introducing me to bow hunting and my Grandpa who always had time to take me fishing. From running catfish set lines to making tree stands, scouting, and learning how to set up a bow. I knew I had to always have the great outdoors in my life.  I have learned a lot and have great memories over my years of hunting with my Dad. As I grew older I ventured out on my own a little more and started to do a lot more self-hunting.

My passion grew even more when I got the opportunity to actually start managing 80 acres of land for deer and other wildlife. I started off doing small things such as, providing quality mineral for the deer, small food plots, making deer trails through the cedar tree belts, and improving bedding so the deer would not have to leave the property as often. I was fortunate to harvest a 168" mature buck with my bow on those 80 acres, which made me extremely happy and fueled the fire to do more on the properties that I am fortunate to hunt and manage.

The 2009 season was very special in many ways to me as I harvested my biggest 168" gross, whitetail buck, with a bow and got to share one last hunt with a close dear friend of mine as he was called to hunt in heaven. Before the 2010 season I became interested in self-filming my hunts so I convinced my Mom and Dad to let me use their camera!  I assured them that I wouldn't drop it out of the tree, which I did unfortunately… I was hooked on filming from there on out and my passion to film grew and continues to grow each year. As it turns out, the 2010 season was good to me as well, I was able to harvest ''Snaps'' not the biggest buck but one that will always mean the most to me for many of reasons.  It was my first self-filmed kill on video. Because of that experience, I never hit the woods without a camera in hand.  I have had many good opportunities to harvest some very nice bucks over the years but could never get it captured all on film while solo filming.

In 2013, I decided that if I wanted to continue to filming I needed to get good high quality equipment, so I took out a loan to purchase a Canon XA20 and all the necessities to get started. Most people thought I was crazy to do that, but they just don't understand the rush you get from it! In 2014, I was fortunate to meet Brian Wiese and help him try to capture his quest of ''Westerkamp" on film all while creating a friendship that goes beyond just hunting. It is refreshing to have a hunting partner that has the same goals and attitude about the great outdoors as I do.

I'm excited for what's to come in the future and ready to be back out sitting in a tree waiting for a big mature Nebraska buck!

Show Less...
Austin Ashley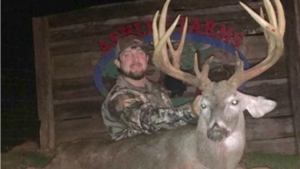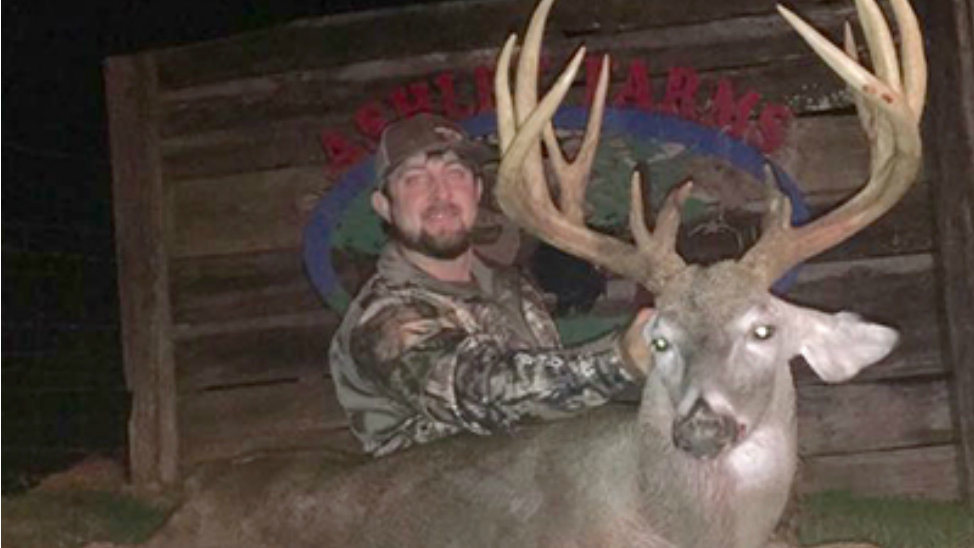 I was raised in a family of hunting enthusiasts, going to the woods in pursuit of various game with my father since I was a very young child. Over the years, we harvested our share of mediocre deer, but nothing notable. Seeing the huge trophy bucks being taken from other parts of the country, I wondered why we didn't have deer of that caliber in southern Mississippi. No one thought we could grow deer of that size here. As I grew older and more passionate about hunting and wildlife, I also grew more interested in the well-being of the deer, their health, and their environment. I set a goal to grow and harvest a Boone &

Show More...

Crockett deer from our farm. That was the beginning of deer management at Ashley Farms.

As a 16-year-old high school senior bound for college, I spotted a particular young 7-point buck, about 2-1/2 years old, on our farm. I decided to see how big this buck could grow. I built feed boxes, put up some game cameras, and began to supplement his diet. I experimented with various supplements, and began implementing protein feeds and year-round food plots. When I couldn't find the right mineral supplement, I even made my own. I had many encounters with this deer over the next 5 years and watched him grow into a true trophy buck. He was harvested by a neighbor and made the Magnolia record books! Over those 5 years, I grew from a weekend hunter into something much more.

At 31 years old, I have been a land manager and game keeper for 15 years on our southern Mississippi farm. I have fought for diversity, because no one seems to think you can grow big deer in Mississippi. I am here to tell you that you can grow not only big deer, but record-worthy bucks! I've proven that intensive management, the right products to give the deer the nutrition they are lacking, and allowing the deer to mature are the key aspects of maintaining a healthy farm and a healthy herd, in spite of less than perfect dirt. As proof that hard work, perseverance, and proper management go a long way, we've harvested multiple whitetails over 170! If I can grow big deer here in southern Mississippi, you can grow big deer wherever you are.

Show Less...
Ray Reed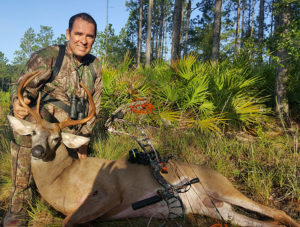 I was born in Newark, New Jersey where I grew up hunting and fishing at a young age of 8. We made yearly trips hunting the mountains in New Castle, Virginia on family property and state gamelands. At age 10, my parents relocated to Florida, which introduced me to a whole new learning curve to hunting the south. I'm an avid archer who enjoys hunting and fishing with my bow as well as target archery. I share my joy for archery and the outdoors with my wife and children who love it as well!!

Show More...

I've been using Ani-Logics products now close to 3 years! I love the results! I'm a huge science geek and wanted to supplement a product that was biologically balanced that would give me the results other than trying to supplement with processed protein pellets. Especially, hunting mainly here in Florida. I wanted something to help boost antler growth! I started with Mineral Dirt 180 and was amazed at how much deer were visiting the site. I then added Supplement GOLD on a yearly basis.

What's amazing is how the deer have responded in antler growth as well as healthy fawns hitting the ground!

Show Less...
Eric Sarver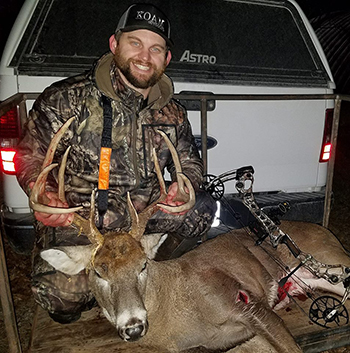 Hunting States: Kansas, Oklahoma, Arkansas, and Missouri
Hobbies: KOAM Outdoors
Interests: Family, Hunting, Fishing, Land Management, Oklahoma Football
I grew up in NE Oklahoma. I was introduced to hunting by my dad and grandfathers. They would always hunt quail, squirrel, and rabbits in SE Kansas along with their annual Thanksgiving pheasant hunting trip to western Kansas. I would always be waiting at the door for them to get back to show off their harvests. At age 8, I got the opportunity to go with them for the first time, and from there my love of the outdoors began.

Show More...

Each time we would go after upland and small game we would always stop and watch the deer and turkey, although, we didn't know the first thing about hunting either. As the next few years went by, I got more and more interested in deer and turkey hunting. I had several buddies that I grew up with that were brought up in deer and turkey hunting families and I always enjoyed hearing their stories.

In 1998, I finally got the opportunity to go on my first deer hunt. I will always remember that day. It was a snow covered foggy December morning and it was cold. As the sun rose I could make out two silhouettes around 300 yards to the east of us. I kept thinking finally I had my own deer hunting story and couldn't wait to tell my buddies about it, and I hadn't even pulled the trigger. My grandfather told me to pick out the biggest doe, as I lifted his 300 Winchester, I slowly put the cross arrows on the top of the deer's back, "slow on the trigger," my grandfather said, Boom! as the smoke cleared, I heard the words every deer hunter loves, "you got it!" At that moment, I finally knew what my buddies had been describing in all their stories and now I had my own story to share.

The following year I got my first bow and from there my lifelong archery passion began. I have harvested numerous Pope and Young deer on both public and private ground and still enjoy hunting both to this day. As the years went by my love for archery hunting grew and grew and I wanted to share my experiences with others. I started to self-film and quickly fell in love with it and the challenges that came with it. A few years later I started the KOAM Outdoors media pages with hunts covering Kansas, Oklahoma, Arkansas and Missouri on both public and private ground. I continue to learn each year and enjoy producing videos of what I do throughout the season to be successful. I cover everything from tree stand placement, hunting and calling strategy's, food plots, along with mineral and supplement feeding.

Ani-Logics Outdoors has lead the way for achieving deer management by delivering great mineral and supplement products that keep your deer herd healthy and fight diseases such as Epizootic Hemorrhagic Disease (EHD). 

Show Less...
Wesley Green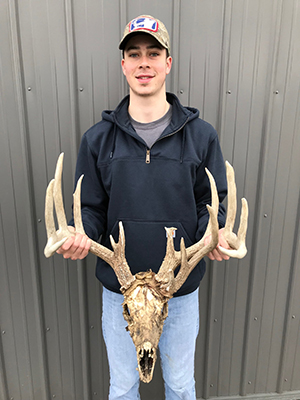 I'm from Rushville, Indiana, which is about an hour Southeast of Indianapolis. I first started hunting when I was about 10 years old when my grandpa and my uncles introduced me to coyote hunting. I first got into deer hunting when I was about 13 and as I started to learn the ways of hunting, I became more and more interested in deer; big deer.
I harvested my first buck when I was 16 years old on the second day of youth season. From 2014 until 2016 I was after a buck I nicknamed "Curve".

Show More...

I watched this buck grow for 3 years and he ended up being harvested by a neighbor. He ended up scoring around 160" and this buck is what really sparked my interest in the management side of deer hunting because I was able to watch him mature and grow. Ever since, I've chased after the most mature deer in my herd because I like seeing them reach their full potential and then feeling the satisfaction when your hard work and dedication finally turns into success.

I spent a lot of time over the years trying to figure out which mineral supplement is best and after about 5 years of experimenting I came to the conclusion that Ani-Logics was the answer. I really enjoy seeing my deer herd reach their full potential and I try to provide them with the proper nutrients they need to do so, that is why I use Ani-Logics. I know for a fact that Ani-Logics mineral provides all of the nutrients my deer need to keep them healthy, while also helping them grow and I have seen the results over the last few years.

As I've grown as a hunter, I take pride in harvesting a particular deer I'm after each year who is also the most mature deer within the herd. I love the challenge of chasing and harvesting a particular buck and how you continue to learn something new, each and every year. I harvested "Triple B" my first ever "Booner" and my first compound bow kill this past season on October 24, 2017. He grossed around 185". This was a hunt and a deer I will never forget, as everything finally came together and my hard work had finally paid off.

I'm very fortunate to be a part of the Pro-Staff team at Ani-Logics and it is a great honor. I truly believe that we have the same values and goals when it comes to managing whitetail deer and helping them reach their full potential every year. I'm also very proud to say that I'm a member of not only a great company, but a great group of people as well. I look forward to what's to come in the future here at Ani-Logics!

Show Less...
Chris Bennett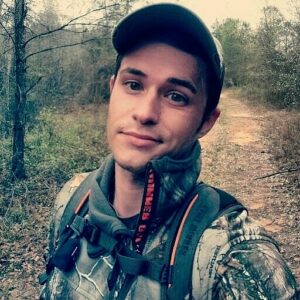 Dreams are why we're all here!! This dream! The pursuit of the elusive Monstrous Buck that stalks our cameras and our dreams. I'm an avid outdoorsman who's passion lies in wildlife conservation and management while providing for my family and others. I grew up in the small town of Graceville, Fl and eventually migrated to the South East corner of Alabama. I'm 29 years old married to my wonderful wife Rachael who is my rock. We have 3 beautiful children together Carson 5, Madison 3, and Leanna 1 who are all just as passionate about the outdoors as daddy and mommy. We work hard to provide and supplement for my family and passions. Hunting!

Show More...

 You will rarely see me with anything but a bow in my hand which is what I feel connects a hunter to the hunt. I've had the privilege through the past years of meeting a very close friend of mine, Bj Pfalzgraff who's introduced me to another world of hunting, management, and tactics. Together we've set our goals to establish the most ideal mineral sources as well as food sources for our deer population. Our goal is to grow healthy, mature, and big bucks! Being in our location, our deer population is already much smaller than other parts of the country but then we discovered Ani-Logics. Being able to be a positive voice to other hunters and game managers is such a rewarding role because you truly are sharing the best product and results you can find using Ani-Logics Outdoors!! I look forward to what the future holds on game cameras and honey holes thanks to Ani-Logics Outdoors!!

Show Less...
Justin Flamming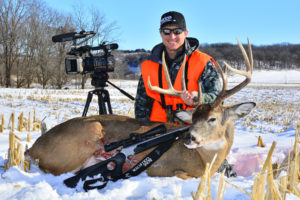 CoFounder of Obsession In The Hills Outdoors
Hunting Partner: Buddy Hanner
Hometown: Lawton, Iowa
Occupation: Owner of TimberLine Landscaping
I grew up in a small town in Northwest Iowa. I got the itch for hunting and the outdoors when I was only 6 years old. I started following my dad and uncle around hunting for deer and pheasants. Even though I was too small to actually hunt, I never wanted to be left behind. I always wanted to tag along and help carry birds or help drag deer back to the truck. As I got older, the obsession got worse, and hunting was all I ever thought about. I began spending all my time scouting for wild game or sitting behind a fishing pole. In high school I slowly began focusing more and more on whitetails. Before I knew it, I was obsessed with chasing these totally unpredictable animals and have never looked back. I started wanting to learn more and more about them. I love the never ending chess match these whitetails provide us with year after year.

Show More...

I got into filming hunts at a young age after watching all sorts of hunting videos on VHS. I loved the extra challenge it added to the hunt. I started filming some on my best friends on their properties, and eventually started making my own home movies. Over the years I got more and more into the filming aspect of hunting and eventually that became just as important, if not more important to me than actually hunting. I spent more time filming whitetails throughout the year than I did hunting them. Don't get me wrong, I love to hunt them, but I love the challenge of filming them even more. Making sure you have all the angles covered and all the extra footage you need to make a killer home video is more exciting to me now.

Through a previous job I was able to meet my new hunting partner Buddy Hanner. We started talking about deer one day while I was working and after talking for over an hour I learned that he was just as passionate about hunting and filming whitetails as I was. He invited me down to check out his farm and the rest is history. He liked hunting them more than filming them and I loved filming more, so it was a perfect match. As the years have gone by we have been blessed with the ability to manage so much amazing hunting ground in Iowa. Growing and managing these magnificent animals has consumed our lives. We do every thing we can to provide them with the best habitat and best nutrition possible to help them all reach their full potential. We've spent countless years trying different types of minerals and supplements, but it wasn't until we talked with Bob and Tim at Ani-Logics that we truly believe we have found the right combinations to provide our deer herd with the best nutrition possible. Through countless conversations and meeting with these two gentlemen, we were given the opportunity to join the Prostaff team for Ani-Logics. Whitetail management and nutrition is our passion and hopefully we can help others create their own hunting paradise through our own experiences!

Show Less...
Nick Calfee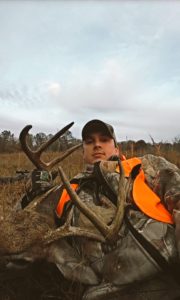 I am from a small town called Cedartown, Georgia. I currently live about 10 minutes away in Silver Creek GA, with my beautiful wife, our 3 dogs, and as of October 2017, our first child, Stetson. Our son was born on my 27th birthday and will forever be the best gift I could ever receive!
I began hunting around my 11th or 12th birthday. Although I didn't have any luck until I was 13, I loved every chance I got to spend outdoors, whether it was deer or turkey hunting or fishing. I was always thinking about the next chance I'd have. I remember the minutes leading up to my first deer. The excitement, the shakes, the uncontrollable breathing and the rush after finally squeezing the trigger. That rush still gets me to this day at the age of 27. I love hunting point blank, period.

Show More...

I haven't killed what society would call a trophy buck yet, or turkey with 6 beards yet, or a whole limit of banded ducks. I have enjoyed some amazing sunrises and sunsets and seen things that people who don't hunt or fish will never see. I've also shared some awesome memories with great friends in the outdoors as well as harvested a lot of deer, a few gobblers, and ducks, and even a rabbit or 2 here in Georgia.

I am lucky enough to have a wife that enjoys hunting almost as much as I do. I was blessed to be with her and film her when she killed her first deer. Seeing her light up after the buck dropped, was a priceless moment, and I pray daily that I'll be blessed to experience that with my son, whenever that day may come. Being outdoors with your family are special times, and I wish more families would venture out and try it. I am honored to be a part of the Ani-Logics team, and look forward to the future, I stand behind and believe in the products they have. The proof is in the product. I used it last year, and it blew all other competition out of the water! When you're able to get over 400+ pictures in weeks' time at one spot on one camera and see deer you've never seen or thought were dead, all killing the spot you put your Ani-Logics at, then you know you've found some good stuff. Ani-Logics is taking the deer supplements game to a whole other level.

There just isn't anything better than waking up at 3 or 4 am, to go freeze or sweat your butt off. Whether in a duck blind, a treestand, or walking a few steep ridges. You know that there is a small chance that you might get to shoot a duck or a turkey in the face or lay the smackdown on a nanny doe or a swamp daddy buck. My life revolves around faith, family, friends, and the outdoors. Hunting isn't a hobby in my life, its apart of my life and lifestyle.

Show Less...
Reid Wilkinson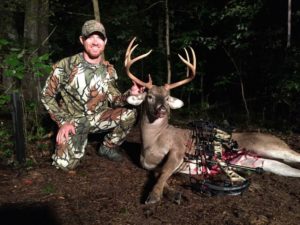 I grew up in south central Kentucky, but hunting hasn't always been a part of my life. As a young boy I often dreamed of chasing whitetails or turkeys, but never had the opportunity or spots to hunt.
Fast forward to 2000 and I got my first motocross bike and was hooked! I raced competitively for 8 years through out the southeastern United States winning a handful of state championships as well as following the Mega Series.
The years passed and a few broken bones later it was either college or pursue racing. I chose school …(smart choice).
I attended Western Kentucky University and Nossi College of Art where I received my associates degree in Graphic design.

Show More...

After school I went to work for my grandfather buying and selling used and rebuilt Caterpillar parts and it's where I do my "normal" work week hustle.

While in college one of best friends took me out and let me kill my first turkey and deer and it was all over. My dad set us up on our first lease and I've never looked back.

Now I'm married To my gorgeous wife and we have a beautiful 3 year old daughter and I'm lucky enough that my in-laws have numerous farms that I hunt. I've always dreamt about hunting and love the lessons it teaches you and can't wait to pass the passion on to my daughter.

Hunting is definitely something that has changed my life and I'll forever be thankful for the opportunities I've been given!

Show Less...
Dylan Hayward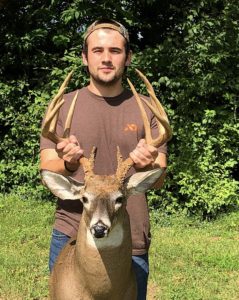 I have lived my whole life in Southern Ohio, in one of the best counties for whitetails in the world. Since I was 9 years old I have had a passion for chasing big bucks, thanks to my role model and best friend; my father. He taught me how to bow hunt, and I have been hooked for 12 years straight. However, it wasn't until last year when my family purchased an 250 acre farm that I realized the importance of providing deer with the right nutrition, which is when I found out about Ani-Logics.

Show More...

I have seen the positive effect it has on my deer herd, not to mention it draws them in like a magnet. It truly has changed the way I hunt, for the better.

Aside from bowhunting, I am currently entering my senior year of college, where I will graduate with a Bachelor's degree in Marketing. I am the founder of Buckeye Hunting, and I do home remodeling on the side and most importantly, I do all of this in the name of my Lord and Savior Jesus Christ.

Show Less...
Jeremiah Voithofer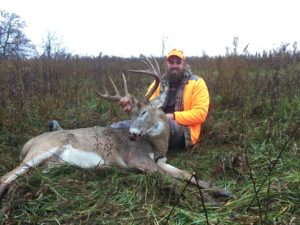 Hometown: Farmington, Pennsylvania
Spouse: Amanda
Children: Henrik
Occupation:  Golf Course Manager at Historic Summit Inn Resort. Owner of Mountain Top Outdoors, LLC
Favorite Outdoor Activity:  Archery Hunting, being the Flippin Bucks ProStaff Team Leader
Top 3 Game Animals to Pursue: Mature Whitetail Deer, Wild Tom Turkey, Big Bull Elk
Raised in southwestern Pennsylvania I grew up playing sports, working hard in the garden and eventually being of age to hunt and help put meat on the table. After baseball mom or dad would stop by the local Video Store (seemed like only when I played well) and allow me to rent 2 or 3 hunting videos.

Show More...

Later that week or next week I'd swap them out before ruining my privilege by getting late fees. Watching big rack-bucks seemed like a Hollywood production; because at the time I hadn't seen anything like that in the fields or woods around home. I loved watching them and wanted to learn more. My brother and I were soon old enough to experience hunting season for ourselves by tagging along with our best buds (my Dad and Pap); and we couldn't get enough of it. To be outdoors, in mother nature, trying to harvest wild game animals for the family was truly a blessing.

I wanted to be like the guys on those VHS tapes. I wanted to help big rack-bucks grow, live and thrive in Southwestern PA where historically they have been myths. I enjoy studying the land, acquiring new leases, managing the family farms, traveling to the Midwest to hunt new states, and doing anything and everything to improve my chances of harvesting Boone & Crockett bucks. With the support of my family I've grown this passion into a business which allows me to educate others and spread the love for the outdoors to a wider audience. Every day of the week I'm working to improve the herd; creating healthier deer and more mature bucks with food plots, minerals and supplements. By using the latest technology, with old school wits, I am able to capture vital information to help pattern big bucks and better understand what they want and need. I have surrounded myself with great outdoorsmen and we look forward to growing with partners like Ani-Logics Outdoors who will take our deer to the next level. I'm super excited to be on this team and supply my herds with advanced nutritional Ani-Logics' products in some of the states I hunt. Wish me best of luck as I continue pursuing my dreams!

Show Less...
Noah Cummings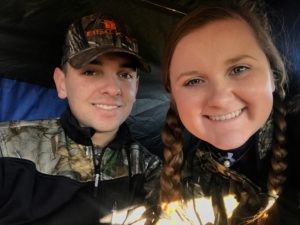 Hunting Partner: Hunter Miller
Hometown: Leitchfield, Kentucky
Education: Associates in Science with an emphasis in Construction Technology from Elizabethtown Community and Technical College
Occupation: Construction Laborer @ Clayton Watkins Construction
Interests: Family, Faith, Hunting, and UK Athletics
Animal Specialties: Whitetail Deer
I've lived in Leitchfield, Kentucky my entire life. I began deer hunting when I was 10, my grandpa would take me a couple times a year during rifle season.  My dad also took me hunting a few times and I was with me when I killed my first deer, a small buck.

Show More...

 I'll never forget the excitement of that day as long as I live. When I was seventeen I met a new friend from my youth group at church who loved hunting as much as I did.  As we began to talk about our passion for hunting we decided to begin filming some of our hunts.  We are now co-founders of a YouTube channel called Priority Outdoors TV. I am also blessed to be able to share my love of hunting with my fiancé Kenzie and her dad. I love hunting and the outdoors and I literally count down the days till the season opens each year.  I have a farm that I hunt on and have recently began utilizing some new hunting tactics such as scent control, land management and herd health. I truly believe in the product that Anilogics produces because I have seen the results first hand.

Show Less...
Kyle Bevis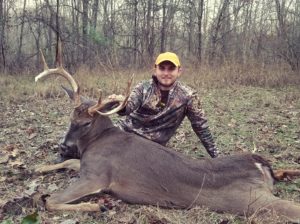 My name is Kyle Bevis and I was born and raised in the small community of Green Hill, Alabama. I am 25 years old, happily married and have a son. I am a Full time Engineering Technologist for the U.S. Army where I am proud to serve my country each and every day and to help the war-fighter in every way possible to ensure them a safe return home. During my pastime I can be found doing anything that involves being outdoors. I am an avid hunter and strive daily to be the best Conservationist I can be to ensure I keep my deer herd in top performing conditions.

Show More...

 My father and I mange a privately owned Family Farm in Southern Tennessee in Wayne County that has been in the family well over 100 years. We like to call this farm "The Home-place" as it is where my Pa-paw was raised up as a child and man oh man, what I wouldn't give to be able to walk those hills and hollows with him just one more time. We also have property In the Northwest Region of Lauderdale County that consist of 75% of row crop land that we also conduct land management practices on. I am also in the works to starting up our very own QDMA branch in our region and very excited to build the program and share some land management insight to anyone and everyone who wants to play a vital role in boosting the deer quality and health in our region. I believe it is important to spread the wealth of knowledge to people in areas like ours because of course we can't quite do the same thing that someone on a 1,000 acre farm in Southwest Iowa may do and one way to help people in our area is to introduce them to Science Based products such as Ani-Logics and not just "any" deer mineral or supplement you may find at the stores. Remembering the saying "Junk in = Junk Out" can be applied to almost any situation or task in life, but, in this situation Ani-Logics has mastered the technique of "Quality Input = Quality Output!" Happy Hunting and ROLL TIDE!

Show Less...