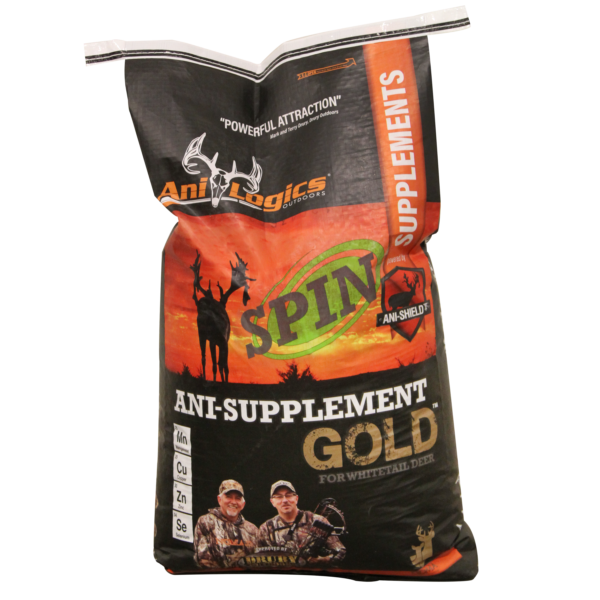 3 Review(s)
Ani-Supplement Gold® SPIN – 50lb
SKU: 60815
Ani-Supplement Gold® SPIN is the answer to your year-round, deer feeding needs.  This scientifically formulated grain-based feed is made with the highest quality ingredients.  Ani-Logics™ scientists developed a formula containing an exclusive and unique blend of rumen degradable proteins (RDP) and bypass proteins.  This highly digestible ration is designed to work specifically with the natural diet of white-tailed deer, with the necessary minerals and vitamins for peak performance.  Ani-Supplement Gold® SPIN includes Ani-Shield TX4® Technology, a concentrated deer power pack, with vitamins, probiotics, and essential oils.  This blend keeps Ani-Supplement Gold® SPIN fresher longer, eliminating waste, while maintaining flavor and nutritional value.  Use year-round to prepare your deer for the hunting season and for the environmental conditions they face throughout the year.

Ani-Supplement Gold® SPIN Features:
Feed deer year-round
Balanced protein diet for whitetail deer
Proprietary whitetail deer attractant
Ani-Shield TX4® Technology designed to support immunity and health in whitetail deer
Pelleted and whole corn blend makes it the idea deer feed for spin feeders
50 lbs
Directions for Use:
Customer Reviews
I first started using ani-logics GOLD spin in January 2017. For about three weeks I wasn't receiving pictures of deer around my feeders. Then all of a sudden I had pictures after pictures of those coming to my feeder. I had one try to knock some feed out of the feeder. The customer service is great.
Reviewed by: P Allen; on 17/07/2017
Love this stuff! Great product.
Reviewed by: Tristen herndon; on 12/01/2017
THIS IS BY FAR THE BEST SUPPLEMENT FEED I HAVE EVER USED. THE DEER KEEP COMING BACK FOR WEEKS AND EVEN MONTHS AFTER ITS GONE. THE CUSTOMER SERVICE IS THE BEST. I HAD A ORDER THAT WAS SHORT AND THEY TOOK CARE OF ME RIGHT AWAY WITH NO ISSUES AT ALL. THEY ARE VERY NICE AND PROFESSIONAL. THE BEST SERVICE I HAVE HAD!!!!
Reviewed by: MATT RODEWALD; on 07/12/2016
Related Items