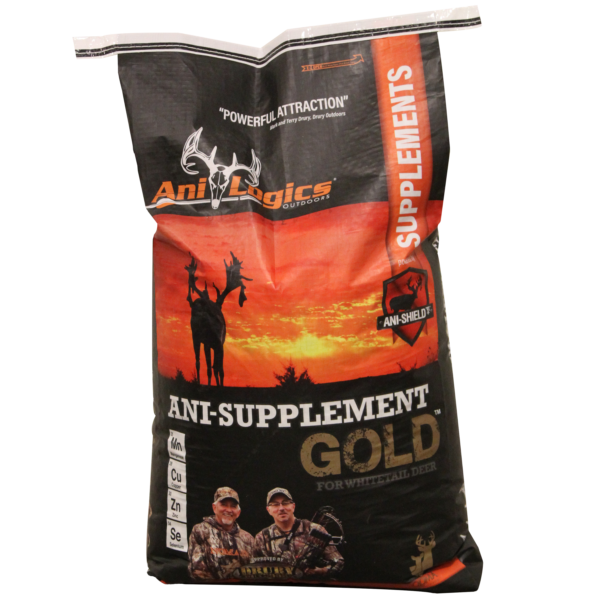 4 Review(s)
Ani-Supplement Gold® – 50lb
SKU: 60825
Ani-Supplement Gold® is the answer to your year-round, deer feeding needs.  This scientifically formulated grain-based feed is made with the highest quality ingredients.  Ani-Logics™ scientists developed a formula containing an exclusive and unique blend of rumen degradable proteins (RDP) and bypass proteins.  This highly digestible ration is designed to work specifically with the natural diet of white-tailed deer, with the necessary minerals and vitamins for peak performance.  Ani-Supplement Gold® includes Ani-Shield TX4® Technology, a concentrated deer power pack, with vitamins, probiotics, and essential oils.  This blend keeps Ani-Supplement Gold® fresher longer, eliminating waste, while maintaining flavor and nutritional value.  Use year-round to prepare your deer for the hunting season and for the environmental conditions they face throughout the year.

Ani-Supplement Gold® Features:
Feed deer year-round
Balanced protein diet for whitetail deer
Proprietary whitetail deer attractant
Ani-Shield TX4® Technology designed to support immunity and health in whitetail deer
50 lbs
Available in 1/2 ton totes, and 1 ton totes
Available in a pellet (SPIN) formula for spin feeders
Directions for Use:
For use in all types of feeders: spinners, gravity feeders, bunk, trough, or directly on the ground. 
For best consumption, please feed deer near a water source or known deer trails.
Customer Reviews
Deer eat it up.
Reviewed by: Sherri Monger; on 16/03/2017
I live and hunt in Iowa so i take my deer management very seriously. Ani-Supplement Gold has been top key in helping keep my entire deer herd healthy as well as helping the bucks reach full potential. I've been using the 50lb bags the past year having some of the bucks make tremendous jump in antler size from 3-4 and 4-5 and I've even had new big bucks I've never seen before show up on it. And-logics customer for life right here.
Reviewed by: Quintin Wilcoxson; on 06/01/2017
This is the second year we used this in Kansas during gun season and it works great. Last year and this year we put it down the first day we hunt and the deer find it fast and love it. They will walk by the feeder with corn and feed on the pile we have put down. It is great food
Reviewed by: Peter R.; on 12/12/2016
I put the Supplement gold in an area with no deer paths and within a couple days, had 5 different bucks show up to it. They couldn't get enough of it!
Reviewed by: Nathan; on 26/10/2016
Related Items