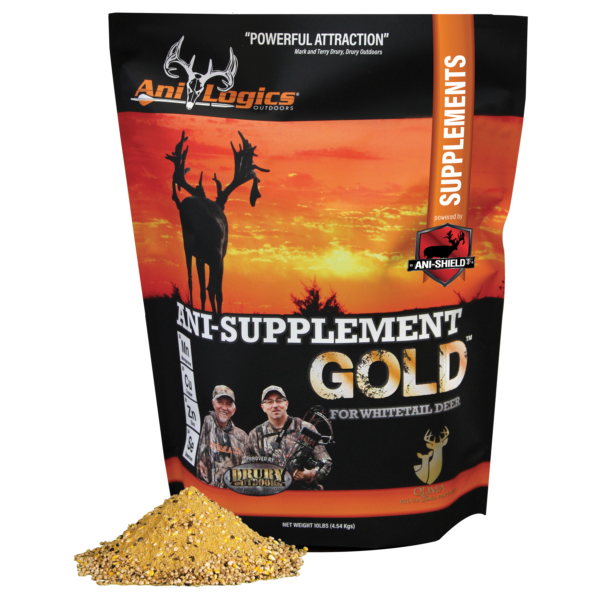 0 Review(s)
Ani-Supplement Gold® – 10lb
SKU: 60810
Ani-Supplement Gold® is the answer to your year-round, deer feeding needs.  This scientifically formulated grain-based feed is made with the highest quality ingredients.  Ani-Logics™ scientists developed a formula containing an exclusive and unique blend of rumen degradable proteins (RDP) and bypass proteins.  This highly digestible ration is designed to work specifically with the natural diet of white-tailed deer, with the necessary minerals and vitamins for peak performance.  Ani-Supplement Gold® includes Ani-Shield TX4® Technology, a concentrated deer power pack, with vitamins, probiotics, and essential oils.  This blend keeps Ani-Supplement Gold® fresher longer, eliminating waste, while maintaining flavor and nutritional value.  Use year-round to prepare your deer for the hunting season and for the environmental conditions they face throughout the year.

Ani-Supplement Gold® Features:
Feed deer year-round
Balanced protein diet for whitetail deer
Proprietary whitetail deer attractant
Ani-Shield TX4® Technology designed to support immunity and health in whitetail deer
10 lbs.
Available in a pellet (SPIN) formula for spin feeders
Available in 20# & 50# bags, 1/2 ton totes, and 1 ton totes.
Directions for Use:
For use in all types of feeders: spinners, gravity feeders, bunk, trough, or directly on the ground.
For best consumption, please feed deer near a water source or known deer trails.
Customer Reviews
There are no reviews yet.
Related Items