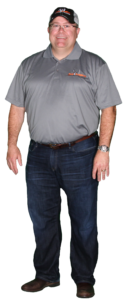 Bob Tims is Director of Sales for Ani-Logics Outdoors®.  Bob loves everything outdoors including; deer hunting, pheasants, migratory waterfowl, and fishing which are all easily accessible in SW MN.  He joined Ani-Logics Outdoors as Director of Sales in 2015 and has helped propel Ani-Logics Outdoors® into dealer networks and national sporting goods retailers.  Bob can be frequently seen at tradeshows for consumers and B2B buying groups.  Previous positions include VP Sales and Marketing of Newport Laboratories, a previously owned company under the Prairie Holdings Group umbrella as well as over twenty years' experience in the packaging and printing industries.  Bob has a BS degree in Electronic Engineering from Minnesota State University, Mankato, MN and received an MBA from University of Sioux Falls, Sioux Falls, SD.
---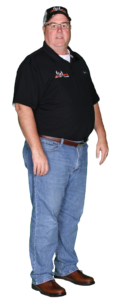 Reggie Radloff joined the Ani-Logics team as a Key Account Specialist in 2017. His primaryresponsibilities include sales, inventory management, purchasing, and warehouse support. He has been employed in the field of sales & Marketing since the age of 16 in various roles from Telephone Sales Representative to National Account Sales Manager.
Growing up in Rural Southwest Wisconsin on a farm provided him the opportunity to hunt frequently. Squirrel, rabbit, grouse, duck, goose, and deer hunting were regular past times. Deer and duck were favorites and then turkey later on. Spending time in the outdoors on the farm has always been a passion.
Reggie has been married for 36 years and counting, raising a boy and girl. Born and raised in Wisconsin, he and his family have resided in Southwestern Minnesota for the past 33 years. His other great pride and enjoyment is spending time with his 3 grandchildren ages 6 ½, 3, and 2. Other activities are puttering around the house and regularly attending Packers games at Lambeau Field.
---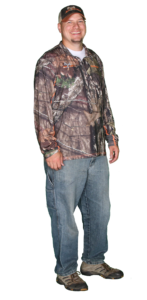 Tim Neuman I grew up in Rochester, MN where I started hunting and fishing at a young age. My dad would always feed deer in our back yard and watching deer from the back window sparked my interest in deer biology. I started out hunting squirrels, rabbits, and pheasants around the age of 6. When I turned 12, I began to deer hunt. I vividly remember shooting my first buck and the associated adrenaline rush was something I wanted to encounter for many years to come.
Wanting to pursue a career in wildlife management, I went to the University of Wisconsin-Stevens Point for my Bachelor's Degree in Biology and Wildlife Ecology. Between my Sophomore and Junior year, I spent a year of active duty in the Army in Iraq as part of a security detail guarding General Petreaus. My time in the Army helped me appreciate how good we have it here in the US in terms of hunting opportunities.
When I returned from deployment, I worked on several research projects included live capturing deer, and I thought that type of work was fascinating. I wanted to expand my knowledge of white-tailed deer, so I went on to Auburn University where I completed my Master's Degree in Wildlife Science. My project at Auburn's Deer Lab was to capture female deer and monitor their reproductive success. A large component of reproductive output is related to available nutrition, so I learned a lot about how nutrition can improve production. I also became a better hunter because when you use a tranquilizer dart on a herd of deer, year-round, they get rather skittish.
After graduating from Auburn, I was hired by the Wisconsin DNR as a full-time wildlife biologist. The opportunity to join Ani-Logics Outdoors as their Wildlife Biologist came up, and I couldn't pass on the chance to focus on white-tailed deer. Now I split my time between product development, land management, writing blogs, customer support, and trade shows, all while trying to kill mature bucks with my bow and arrow.
As for my personal life, I have a wonderful wife, Jenny, that understands how much I love white-tailed deer and sacrifices many hours taking care of our 2 beautiful girls when I am away from home. I try to hunt any chance I get, and when I'm not actually hunting, I'm either shed hunting, fishing, watching the MN Twins or the Vikings, or spending time with family.